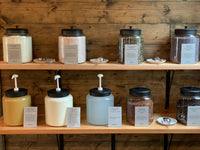 BULK SELECTIONS
Many of your favorite products are now available in bulk. Just bring us a clean container and we'll fill it for you.
Sunshine Coast Lavender Farm is a small family run farm on the beautiful Sunshine Coast of BC.
We started our farm in 2016 with just over 600 plants in the ground and sold our hand crafted products out of our house and at local markets. Slowly but surely we now have over 1000 plants and plan to expand soon.
We've also managed to create a small farm gate shop on our property where we create and sell our products. In April 2021 we opened a retail space in our local mall, our products are now available year round.
Everything we make has been crafted by hand, from scratch in small batches. Our Goat's Milk Soap is made with fresh milk from our own herd and all the lavender we use has been harvested from our fields. We use all natural and organic ingredients whenever possible.